Your gateway to information about alcohol and drugs in a development context.
LATEST NEWS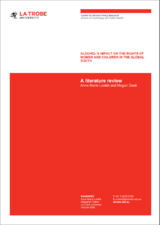 New report launched
Posted on: 05..12.2019
FORUT recently launched a report written by Anne-Marie Laslett and Megan Cook from the Centre for Alcohol Policy Research at La Trobe University in Melbourne. The report is a literature review with the aim of building increased understanding of the effects of alcohol on women and children in the Global South.
News archive ›