Your gateway to information about alcohol and drugs in a development context.
LATEST NEWS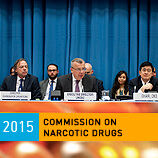 Posted on: 19..03.2015
"Evidence-based practices are the best means of preventing and treating drug abuse and ending the misery of millions of people", UNODC Executive Director Yury Fedotov said in Vienna at the closing of the 58th Session of the Commission on Narcotic Drugs (CND). This year's CND session was focussed on preparations for UNGASS2016.
News archive ›