Your gateway to information about alcohol and drugs in a development context.
LATEST NEWS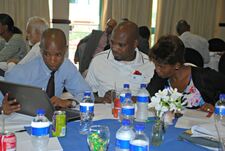 Alcohol Policy Forum for NGOs in Southern Africa:
Posted on: 11..12.2014
Alcohol plays a role in numerous stages of HIV disease from disease acquisition to health seeking behaviours to ART adherence to disease outcomes. Alcohol policy can impact on the HIV epidemic, said Dr. Neo K. Morojele at NGO forum in Botswana.
News archive ›