Your gateway to information about alcohol and drugs in a development context.
LATEST NEWS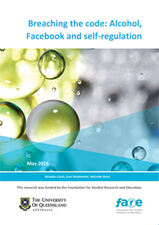 New report from Australia:
Posted on: 28..05.2015
Advertisers of alcohol brands at Facebook are clearly not complying with their current self-regulatory advertising codes, with many of its provisions being regularly breached. These breaches are from both the brands themselves and the responses elicited from their Facebook fans. This is the conclusion in a fresh report from Australia on Facebook marketing of alcohol.
News archive ›