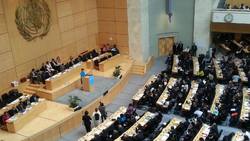 NCDs are among the issues to be discussed when health officials from the 197 member states of the World Health Organization meet in Geneva for the World Health Assembly (WHA) this week. Following up on the political declaration from the UN High Level Meeting on NCDs in 2011, the WHA is considering a Global Action Plan that has been developed during the last year.
In her opening address the WHO Director-General, Dr Margaret Chan, stated that tackling noncommunicable diseases, is not going to be easy:
"Today's health challenges are vastly different from those faced in the year 2000, when the Millennium Declaration was signed. Efforts to safeguard public health face opposition from a different set of extremely powerful forces.
Many of the risk factors for noncommunicable diseases are amplified by the products and practices of large and economically powerful forces. Market power readily translates into political power.
This power seldom impeded efforts to reach the MDGs.
No PR firms were hired to portray the delivery of medicines for HIV and TB as interference with personal liberties by the Nanny State, with WHO depicted as the Mother Superior of all Nannies. No lawsuits were filed to stop countries from reducing the risks for child mortality.
No research was funded by industry to cast doubt on the causes of maternal mortality. Mosquitoes do not have front groups, and mosquitoes do not have lobbies.
But the industries that contribute to the rise of NCDs do. When public health policies cross purposes with vested economic interests, we will face opposition, well-orchestrated opposition, and very well-funded opposition."
The delegates at the WHA went straight into discussion of the NCD issues and the results will only be clear later in the week.
One of the challenging issues is around alcohol, and the role of the alcohol industry. Dr. Chan also touched on this in her speech: "WHO will never be on speaking terms with the tobacco industry. At the same time, I do not exclude cooperation with other industries that have a role to play in reducing the risks for NCDs.
There are no safe tobacco products. There is no safe level of tobacco consumption. But there are healthier foods and beverages, and in some cultures, alcohol can be consumed at levels that do not harm health.
I am fully aware that conflicts of interest are inherent in any relationship between a public health agency, like WHO, and industry.
Conflict of interest safeguards are in place at WHO and have recently been strengthened. WHO intends to use these safeguards stringently in its interactions with the food, beverage, and alcohol industries to find acceptable public health solutions. WHO will continue to have no interactions whatsoever with the tobacco industry."
More information about the World Health Assembly is available at the WHO website