A collaboration process for Malawian NGOs, which was triggered by advocacy efforts by the alcohol in industry in 2007, has now led to the formation of a national NGO alliance, MAPA, to work for evidence-based alcohol policies.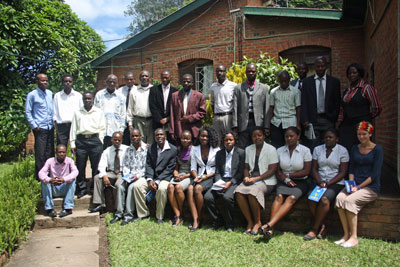 Malawian civil society organizations have since 2008 worked together with government partners to develop a new national policy for Malawi. See reports
here
and
here
and
here
. A number of policy drafts were produced, these were discussed at a series of regional consultations meetings and finally a national validation meeting was held in June 2011. After that a final national alcohol policy draft was presented to the Malawian government for their consideration and further handling.
Early in this process a Task Force Committee was established in order to secure a steady progress of the drifting process as well as to ensure broad participation of both NGOs and government institutions. When the draft policy was handed over to the government late in 2011, the role of the Task Force Committee had come to an end. The alcohol policy cooperation among civil society organizations will now be continued through a newly established Malawi Alcohol Policy Alliance (MAPA).
The initiative to the new alliance was taken by Drug Fight Malawi and their Executive Director Nelson Zakeyu, who also served as secretariat for the Task Force Committee in the previous years. In order to secure a broad political base and public support for MAPA, two regional meetings have been held in the Southern (picture above) and Northern regions of Malawi. These meetings have gathered youth organizations, child rights organizations, health NGOs, human rights advocates, religious leaders, journalists and representatives of community organizations, among others.
The two regional meetings have discussed the alcohol and drug situation in their areas, links to poverty, HIV/AIDS, gender-based violence and other development issues and how NGOs can contribute towards a better alcohol policy in Malawi. Both meetings concluded by electing regional committees for the Malawi Alcohol Policy Alliance. Chancy Mkandawire (Children Development Promotion) was elected chairperson of the Southern Regional MAPA Committee while Emmanuel Kalua (Primary Justice NGO) now hold this position for the Northern Region.
Pictures below; from left to right: Chance Mkandawire, Nelson Zakeyu and Emmanuel Kalua.