The African Journal of Drug & Alcohol Studies is an international scientific peer-reviewed journal published by the African Centre for Research and Information on Substance Abuse (CRISA). The Journal publishes original research, evaluation studies, case reports, review articles and book reviews of high scholarly standards. Papers submitted for publication may address any aspect of alcohol and drug use and dependence in Africa and among people of African descent living anywhere in the world.
The term "drug" in the title of the journal refers to all psychoactive substances other than alcohol. These include tobacco, cannabis, inhalants, cocaine, heroin, prescription medicines, and traditional substances used in different parts of Africa (e.g., kola nuts and khat).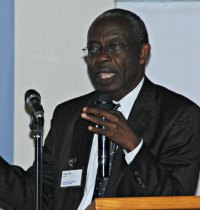 Editor-in-chief of the African Journal is Prof. Isidore Silas Obot at CRISA, Nigeria (picture to the right).
Contact address: obotis@gmail.com
See the CRISA web site for more information about CRISA and The African Journal.
Download the two issues in Volume 10 of the Journal here:
Contents of Volume 10, Number 1 2011:
Alcohol, sexual victimization and partner aggression in Nigeria
Young heroin injectors in Dar es Salaam, Tanzania
Correlates of alcohol use disorders among HIV patients
Substance use and psychiatric morbidity among patients with HIV infection
Drinking, family type and youth HIV/AIDS risk behaviour
Harm reduction in Africa
Cannabis use and young people in Tanzania
Contents of Volume 10, Number 2 2011:
Alcohol Use in Ghana and South Africa
Interventions to Reduce Alcohol Use-related Sexual Risk Behaviour
Khat and Bhang Use in Kenya
Urine Toxicology in a Psychiatric Hospital
Substance Use Among Yandaba in Kano