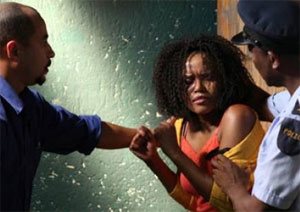 The starting point of STRIVE is that despite over two decades of concerted action, the global health community has been largely unable to reverse the tide of the HIV epidemic, and new infections continue to outstrip the number of people newly put on HIV treatment. "Prevention efforts that have succeeded - like Thailand's 100 percent condom use program - have targeted not only individual behaviour change, but have addressed the policy and economic environment in which health-related decisions are made.
Despite knowledge gained about the importance of this dual strategy to address HIV, the vast majority of HIV prevention programmes remain focused primarily on individuals and their behaviour, generally ignoring what has come to be known as the "social drivers" of the epidemic", states the research document.
See more information here at the STRIVE web site.
STRIVE - Tackling the Structural Drivers of the HIV Epidemic - is a six-year research consortium aiming at generating rigorous evidence on the social and economic forces that create vulnerability to HIV and hinder the effectiveness of well-proven forms of prevention and treatment. Although the importance of addressing the structural drivers of HIV is increasingly recognized, there is limited evidence on how best to intervene.
The STRIVE program is highly relevant for the field of alcohol and development, as alcohol consumption is one of the four structural drivers to be studied: Gender inequality and violence, Poor livelihood options, Alcohol availability and drinking norms, Stigma and criminalisation.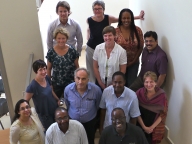 Research will be conducted by institutions in the three partner countries; India, Tanzania and South Africa. Furthermore, relevant NGOs are included as affiliates to STRIVE: HIV/AIDS Group of the United Nations Development Programme (New York, USA), the
Millenium Villages Project
(80 villages in 10 African countries, led from The Earth Institute, Columbia University, New York); IMAGE (Intervention with Micro--‐finance for Aids and Gender Equity, Limpopo, South Africa); and
The Soul City Institute for Health & Development
Communication (South Africa). The picture to the right shows members of the governing commitee and STRIVE as well as partner representatives.
The consortium seeks to understand how these forces drive the epidemic; what programmes are effective in tackling them; how such interventions can, affordably, be taken to scale; and how best to translate this research into policy and practice.
The STRIVE Consortium is being led from the London School of Hygiene and Tropical Medicine with Senior Lecturer Lori Heise as Executive Director. Funding comes from UK Department for International Development (DFID).
FORUT is one of the organizations invited to sit in the Consortium Advisory Group for STRIVE, primarily to bring in competence around alcohol policy and alcohol prevention in a development perspective.