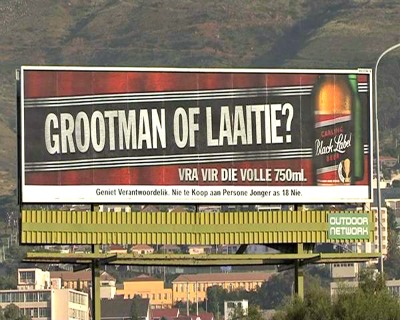 The picture above is one example of South African alcohol advertising.

The South African Minister for Social Development, Bathabile Dlamini, has stressed the need for restricting alcohol advertising in the country, in order to reduce the burden of social and health consequences of binge drinking among South Africans. "We have spoken to industry and made it clear that our first priority is the health and safety of South Africans, everything else follows after that", the minister said to IOL News last June.
"We have to ask ourselves the question of whether we want to destroy the lives of people just so that others may have jobs. We must decide which one is our priority; and ours is very clear," said Minister Dlamini.
An alliance of NGOs, research and academic institutions, spearheaded by the Soul City Institute, have supported the initiative by the government and mobilized public support for a ban. These initiatives have been met with intense opposition from alcohol producers and the advertising industry.
The picture shows one example of South African alcohol advertising. "Are you a big man or a small boy", asks the huge billboard from Carlings, promoting big 750 ml bottles of their beer Black Label.
Aggressive language
Industry representatives have used surprisingly aggressive methods and impolite language in their campaign against an advertising ban. On the 20th of January this year an open letter was published as a paid advertisement in the newspaper, Sunday World, launching a severe and very personal attack on Soul City and their management. The advertisement in Sunday World was signed by Tshepo Matsepe, who is co-owner of the advertising agency Kena Media. This agency is being used by many companies to produce mainly billboard campaigns nationally in South Africa. Alcohol companies like SABMiller, Amstel and Brandhouse are listed as Kena Media clients on their web site.
The open letter says that the Soul City and Puza Wize management are only career donor seekers with a work ethic of questionable merit. They earn their living by "adopting projects that appeal to compassionate donors". The advertisement continues by saying that it is an open secret that Soul City's "real interest in the alcohol advertising debate is the amount of donor funds you can secure by positioning yourselves as "the good guys"".
"Hard working entrepreneurs"
In contrast to this, the advertisement in Sunday World says that "the advertising sector is made up of hard working entrepreneurs who earn their living through honest labour. We earn our keep. The bread on our tables is earned through the sweat of our brows", writes the representative from the advertising industry. Mr. Matsepe concludes by saying about Soul City and its management that they "have decided to do away with NGOs of your ilk that commercialise our plight by converting our developmental challenges into donor fund fodder".
In 2011 two similar attacks on were launched by full-page adverts in the Sunday World, first against Savera Kalideen from Soul City and next week against the Special Advisor to the Minister of Social Development, Zane Dangor. At that time these persons where among the most outspoken advocates against alcohol advertising, on behalf of their respective organisations.
The South African Minister of Health, Aaron Motsoaledi, has also taken a stand against alcohol advertising, saying that such a ban could play a crucial role in the health of all South Africans. "I don't know how soon but it's just a matter of time. It's not an issue of whether or not, it's an issue of when," Mr. Motsoaledi stated in September 2011.
ANC committed to introducing a ban
The National Annual Conference of the African National Congress (ANC) in December 2012 re-confirmed the governing party's commitment to reduce alcohol-related harm in South Africa. One of the conclusions was to "pass law to abolish marketing of alcohol products by 2013". The resolution says furthermore that "The ANC and government must embark on activities to promote healthy lifestyles through mobilization of individuals andcommunities to engage in physical activities, good dietary practices and reduction of harmful use of alcohol, tobacco and control of substance abuse." The Annual conference describes such activities as a key component of youth development work.
The Soul City Institute for Health and Development Communication is a South African NGO established in 1992. The Institute aims at improving people's health and quality of life through health communication, education, advocacy and mobilization of communities. Edutainment is one of the methods used, resulting in among others the multi-award-winning TV series "Soul City". "Phuza Wize" has for several years been run as a national campaign to reduce alcohol-related harm.
The Phuza Wize web site can be found here. The site is not being updated now.
Here is the web site of the Soul City Institute.
"Alcohol Marketing in South Africa" is a resource guide produced by Soul City in order to promote a more informed public debate on alcohol advertising. The guide refers to the fact that the total spend on alcohol advertising in 2009 was R364 million for SABMiller, R 305 million for Distell and R337 million for Brandhouse. The three companies then together spent more than R1 billion that year for advertising, which today would be equivalent to more than US $113 million.
The resource guide on alcohol marketing can be downloaded here.
The Soul City management has decided not to comment on the accusations presented in the advert in Sunday World. They have instead written an opinion article outlining their position on alcohol advertising. Their Chief Executive Officer Lebo Ramafoko makes reference to the fact that "The recent attempts by powerful vested interests in the alcohol and advertising industries to thwart any attempts to ban alcohol advertising in South Africa reflects a global trend by these industries to speak with uniformity of language and argument on this issue. It does not however, change the facts that we are confronted with in South Africa".
"Advertising increases consumption"
Evidence indicates that alcohol advertising increases consumption, especially among young people, who are also shown to begin alcohol consumption earlier in countries where alcohol is advertised. Alcohol adverts also commonly link social and financial success, glamour and sporting prowess with alcohol consumption when none of these outcomes can be linked to the product at all", writes Soul City's CEO Lebo Ramafoko.
Soul City concludes their open letter by saying that alcohol-related harm is a public health challenge that costs the country lives, money and countless damaged families and communities." It is not necessary to be a public health worker to be sensitive to this cost, and to respond with the necessary energy and empathy to this tragedy that engulfs us. It is however necessary to value the lives and social connectedness of those who consume a product that is lethal to their health and well-being - and not just the jobs that will be lost - if they reduce their consumption to protect their health."
A battery of interventions needed
Soul City believes that banning alcohol advertising in South Africa is one of a battery of steps that the government needs to take to reduce the availability of alcohol in South Africa. Some of these are legislative, such as increasing the price of alcohol and banning alcohol advertising, while others require increased policing and monitoring of liquor outlets. The Phuza Wize campaign has emphasized that it is only these collective steps that will result in a reduction in the myriad sources of alcohol-related harm that South Africans live with on a daily basis.