Program ready for GAPC2017
The programme for the Global Alcohol Policy Conference 2017 (GAPC), to be held in Melbourne Australia 4-6 October 2017, is available. The option for early bird registration is still open until 30 June.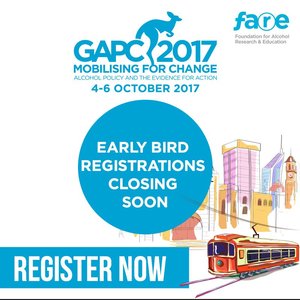 The GAPCs, organised every second year, have become the leading forum for the world's alcohol policy makers, researchers and practitioners. Melbourne, Australia will be the venue for the 2017 version of the event, following the successful conferences in Thailand, South Korea and Scotland.
Key note speakers
Key note speakers include Professor Antonia Lyons at Massey University whose research include how young adults engage with online alcohol marketing. Jeff Collin from the University of Edinburgh focuses on global health governance with a particular interest in unhealthy commodity industries. Dr Bronwyn King, Founder and Chief Executive Officer, Tobacco Free Portfolios, is an award-winning tobacco control activist and Professor of Law Jane Kelsey from University of Auckland is a well-known critical commentator on issues of globalization, neoliberalism trade treaties. Dr. Supreda is the CEO of the Thai Health Promotion Foundation, which is a model referred to by many public health advocates.
Big programme
In addition to the line-up of plenary speakers there will be a rich programme of workshops and concurrent and table top sessions. Workshop topics include alcohol policy advocacy agrugments, New Urban Agenda, Foetal Alcohol Spectrum Disorder, Mobilising alliances – alcohol and NCDs; Big Alcohol & trade agreements; alcohol norms and behaviours in rural communities; Vested Interests and Alcohol industry Corporate Political behaviour; and new media advocacy.
Altogether 18 parallel sessions include more than one hundred speakers on a wide range of topics relating to alcohol policy. Speakers are drawn both from research, policy and practitioner background. Table top session will offer an engaging new approach to the GAPC programme.
Register now
Early bird registration is open until 30 June. More information about the conference is available at the GAPC2017 website.
See you in Melbourne!
RELATED ARTICLES