"AIDS in numbers":
New figures confirm global progress
Remarkable progress has been made over the last decade—yet significant challenges remain. This is the conclusion UNAIDS draws from the latest statistics over the HIV/AIDS epidemic. Their new report "AIDS by the numbers" says that there has been a reduction of 33% in new HIV infections since 2001.
2014-02-17
STRIVE: Research on structural drivers behind the spread of HIV/AIDS

A new and promising research program on structural drivers of the HIV/AIDS epidemic has now been started under the title STRIVE. The program is highly relevant for alcohol and development discussions, as excessive drinking is one of the four drivers to be examined.
2012-05-02
PEPFAR Southern & Eastern Africa Technical Consultation
Alcohol and HIV Prevention
More than 80 participants representing fourteen countries in East and Southern Africa met in Windhoek, Namibia last month to share approaches to alcohol-related HIV prevention programs. Presentations from the meeting are available from the AIDSTAR-One web site.
2011-05-11
Say South African health experts:
Global Fund SAB tie is extremely problematic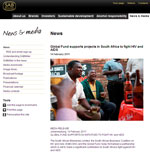 South African Breweries and the Global Fund has formalised a partnership to fight against HIV and AIDS. "This arrangement is extremely problematic and is in our view, completely unacceptable" say health experts pointing to conflict of interest, lack of evidence base and questionable quality of programme.
2011-03-21
Special Issue of AIDS and Behavior:
Current issues in Alcohol use and HIV research and prevention in India

A recent supplemental of the journal AIDS and Behavior is a collection of recent work by Indian researchers and Indo-U.S. partnerships, examining the intersection of alcohol and HIV in India.
2010-10-20
Alcohol: the forgotten drug in HIV/AIDS
In a comment in The Lancet, August 7, three researchers point out that alcohol has long been recognised as an important contributor to illness and injury, accounting for 4% of the global burden of disease. Yet alcohol remains conspicuously absent from the larger field of research and programming in HIV and substance use.
2010-08-25
KBS conference in Uganda
Researchers to discuss epidemiology and policy
The Kettil Brunn Society KBS will hold a thematic meeting on alcohol epidemiology and policy in Kampala, Uganda in November.
2010-05-14
CRISA conference in Nigeria
Alcohol, Drugs and HIV/AIDS in Africa
The African Centre for Research and Information on Substance Abuse (CRISA) has announced that its International Conference on "Drugs and Society in Africa" will take place in Abuja, Nigeria, in August 2010. The conference will focus on the role of alcohol and other drug use in the HIV/AIDS epidemics in different African societies.
2010-03-09
New study shows:
Infectious diseases have alcohol link
A new study establishes a causal link between alcohol use and the risk of contracting TB and pneumonia, as well as influence from alcohol use on the progression of TB and HIV.
2009-12-09
Scientific review of linkages between alcohol, TB and HIV/AIDS
An international group of experts have concluded on the current knowledge base on possible linkages between alcohol and infectious diseases like tuberculoses and HIV/AIDS. Their conclusions are now summarized in an editorial in the international scientific journal Addiction.
2009-02-09
Botswana's President: Alcohol a great obstacle to HIV/AIDS prevention

"The continued abuse of alcohol is one of the greatest obstacles to Botswana's Vision 2016 ideal of an HIV free nation by 2016". This was said by President Ian Khama speaking at a World Aids Day commemoration in of Botswana.
2008-12-15
WHO report:
Changing men's behaviour can improve women's health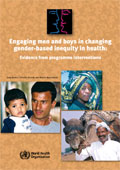 By innovative and well designed programs it is possible to involve men in changing sexist, risky and violent behaviour. This is the conclusion of a WHO report which has reviewed 58 programs aimed at engaging men in changing male identity and behaviour.
2008-01-21
New statistics presented: HIV prevalence has levelled off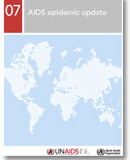 New data show that global HIV prevalence - the number of people living with HIV - has levelled off. The number of new infections has fallen. This was the conclusion drawn by UNAIDS when new AIDS statistics were presented.
2007-11-23
African Journal: Role of substance abuse in the African HIV/AIDS epidemic
The latest issue of the African Journal of Drug and Alcohol studies is devoted to broadening the knowledge base on the role of alcohol and drugs in the spreading of HIV/AIDS in Africa. New research material is presented from Kenya, Mauritius, Nigeria, Rwanda, South Africa, Tanzania and Zambia.
2007-06-20
WHO:
Alcohol Use and Sexual Risk Behaviour
A number of patterns of interaction exist between alcohol use and sexual risk taking. This is one of the findings of the WHO study 'Alcohol Use and Sexual Risk Behaviour: A Cross-Cultural Study in Eight Countries'. This has implications for prevention programmes, both in the alcohol and in the hiv/aids field.
2007-04-25
Alcohol and drugs included in Norway's HIV and AIDS position paper
The Norwegian Ministry of Foreign Affairs has published its HIV and AIDS policy in the form of a position paper in development cooperation. In the document the growing understanding of alcohol's role in the spread of the infection is reflected.
2006-11-30