First national alcohol policy conference to be held in Uganda
In the end of November civil society leaders, researchers and government representatives will meet for Uganda's first national alcohol policy conference. Topic: "Unite against alcohol harm: A call for action".
The conference will take place in Kampala City on the 28th and 29th of November. Hosts are the Ministry of Health and the Uganda Alcohol Policy Alliance (UAPA). By gathering a good audience of experts and activists, the hosts hope to give a stronger momentum to ongoing alcohol policy processes in Uganda.
The draft programme contains concurrent sessions on these subjects: Regulation, Media and Marketing, Underage use, Treatment, Rehabilitation, Advocacy and Research. Furthermore, three plenary sessions will offer a selection of Ugandan and international experts. Participants may also share experiences in a poster session on best practices for mitigating alcohol-related harm.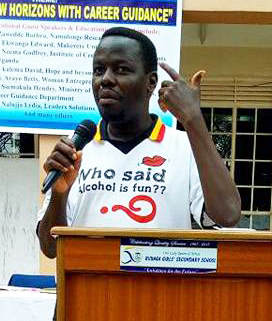 Registration is done by sending this registration form to ugandaalcoholpolicyalliance@gmail.com with copies to kalemdav@yahoo.com and ruthk89@yahoo.com
Deadline for early bird registration is 30th September.
David Kalema (picture right) is the chair of UAPA and one of the conference organisers.
According to the Global Status Report on Alcohol and Health, Uganda ranks among the countries with the higher alcohol consumption in Africa, 9.8 liter per capita 15 years and above, compared to the African average of 6.0 liters. 15 per cent of the consumption is estimated to be unrecorded, locally brewed drinks.
The Uganda Alcohol Policy Alliance (UAPA) is a network of non-government organizations and people working in public health agencies who share information on alcohol issues and advocate for evidence-based alcohol policies free from commercial interests. UAPA is affiliated to the Eastern African Alcohol Policy Alliance and the global umbrella GAPA; the Global Alcohol Policy Alliance.