Rashmila Shakya, CWIN Nepal:
Empowerment of children is key in drug prevention
"With timely and right interventions children can be helped out of their drug problems. This requires broader interventions than only service delivery or education", said CWIN representative Rashmila Shakya to the Commission on Narcotic Drugs in Vienna today. She recommended participatory methods to empower children.
The CWIN representative used the opportunity, having representatives from most of the UN member states in the audience, to remind all governments about their obligation in the Convention on the Rights of the Child. "This convention states that governments shall take all appropriate measures to protect children from the use of narcotic drugs. From our point of view, this means that the best interests of the child should be given preference when designing drug policies and preference above other population groups.
The concept of "harm to others" is essential. Children are innocent victims of alcohol and drug use in the adult population", said Ms. Shakya in Vienna on behalf of the Nepali NGO CWIN; Child Workers in Nepal Concerned Center. CWIN was one in a series of speakers that were gathered in the UN building in Vienna this week to discuss how the world can implement the Outcome Document from the UNGASS conference in New York last year.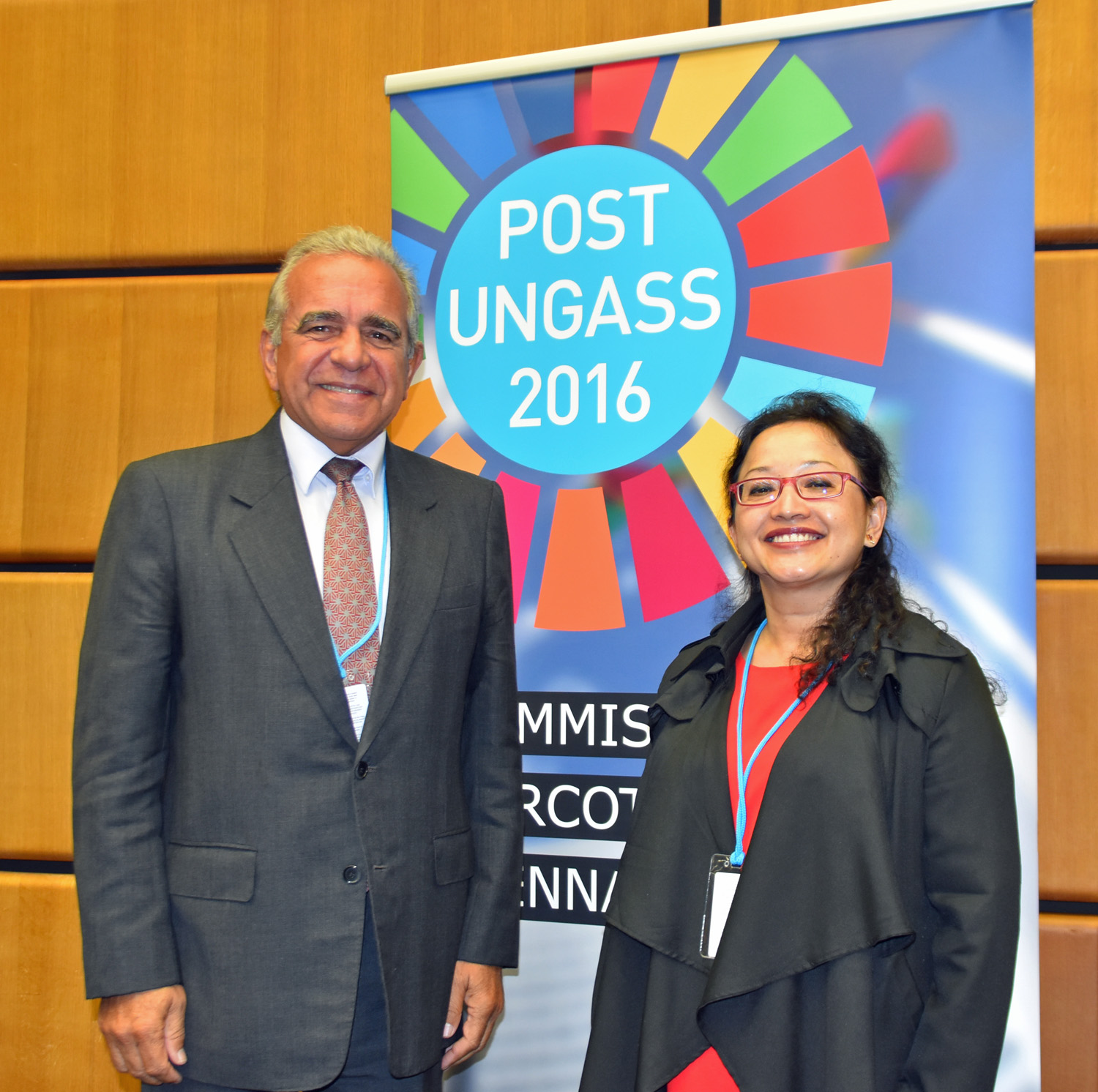 Most of the representatives naturally came from governments, but four-five NGOs were also invited to comment on each of the topics on the agenda, bringing experiences from the ground into the UN process. The topics this time were Prevention and Demand Reduction, Essential Medicines (pain killers etc.) and cross-cutting issues like gender, children, youth and human rights. The NGOs were selected to reflect various approaches to drug policies.
CWIN is a pioneer child rights organization in Nepal with a history that stretches nearly 30 years back when a group of student activists decided that they would devote themselves to help child workers, street children and other children in need. Today the work of CWIN is focused on policy advocacy and child protection.The picture to the right shows Ambassador Moitinho de Almeida, the Facilitator of the post-UNGASS process together with Ms Shakya from CWIN.
Read the full text of Rashmila Shakya's presentation here.
CWIN runs the Child Helpline where children can call for help. CWIN works with children at risk such as children living on the streets, child survivors of abuse exploitation, trafficking and sexual exploitation. Prevention of alcohol and drug problems is a natural part of this, and the same is treatment and rehabilitation of children with substance abuse problems.
Rashmila Shakya reported to the Commission on Narcotic Drugs how CWIN empower children against drugs through engaging them in creative activities. "One such example is creating grassroots comics on drugs where we train children on how to create comics with their own stories. At the end of three days of the workshop, they come up with their own beautiful stories discussing drugs, alcohol, tobacco and other related problem".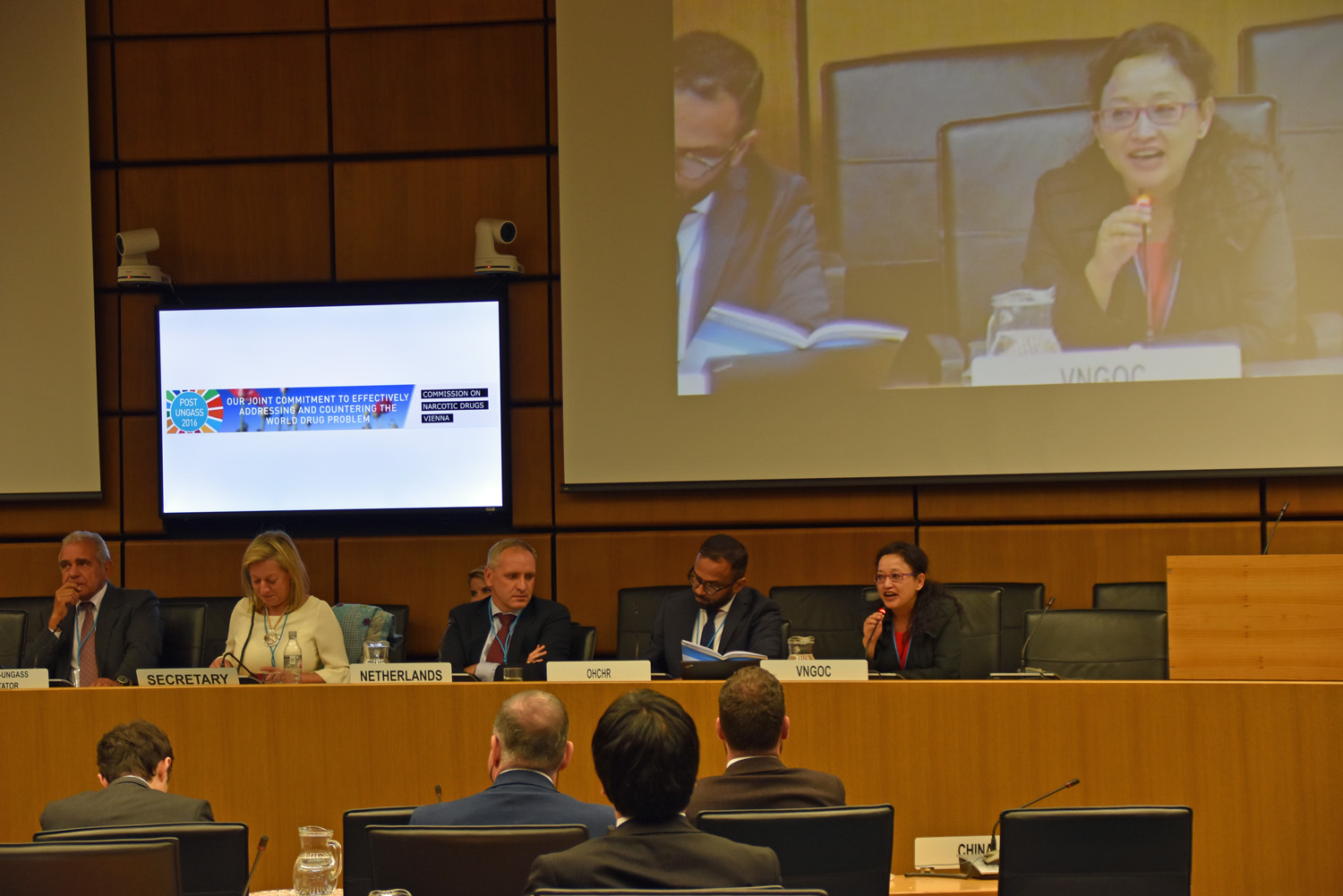 Ms. Shakya reported that some children would tell about their encounter with drugs, some would come out with stories on how families have been ruined and some come up with great ideas to solve the problem. These stories not only empower them but work as a tool to raise awareness among the general public.
The Commission on Narcotic Drugs is in the process of preparing for a new UN high-level meeting on drugs in 2019. Three preparatory meetings will be held in Vienna, Austria during the autumn, and the three-day session in Vienna 26-28 September was the first of these three meetings.
RELATED ARTICLES