New report from Australia:
Alcohol producers break their own marketing codes at Facebook
Advertisers of alcohol brands at Facebook are clearly not complying with their current self-regulatory advertising codes, with many of its provisions being regularly breached. These breaches are from both the brands themselves and the responses elicited from their Facebook fans. This is the conclusion in a fresh report from Australia on Facebook marketing of alcohol.
One of the co-authors of the report, Dr Nicholas Carah, University of Queensland, explains the background for the study in an article at the DrinkTank web site: "Back in 2012, a colleague and I made a complaint regarding Smirnoff and Victoria Bitter (VB) noting that the content on their Facebook pages breached a number of standards in these advertising codes".
In what Dr Carah calls a landmark decision, Australia's regulatory bodies upheld the complaint. "They ruled that the Industry Codes of Practice should apply to alcohol marketing on Facebook and, importantly, that page administrators were also responsible for moderating user-generated content".
It has been documented earlier how alcohol producers systematically break their own advertising codes. Another report show how alcohol companies increasingly use Facebook and other social media in their marketing strategies.
The new report from Australia can be downloaded here. It examines content posted by alcohol brands to Facebook during 2012 following the determination of the the Advertising Standards Board (ASB) and Alcohol Beverages Advertising Code (ABAC) Complaints Panel from 2012. The report poses three key research questions:
Are the breaches of the code seen in the 2012 ruling against VB and Smirnoff more widely evident on the Australian Facebook pages of alcohol brands?
Are alcohol brands complying with their own self-regulatory codes in light of the decisions by the ASB and ABAC in 2012?
And are the current regulatory codes appropriate for regulating alcohol brand activity on Facebook?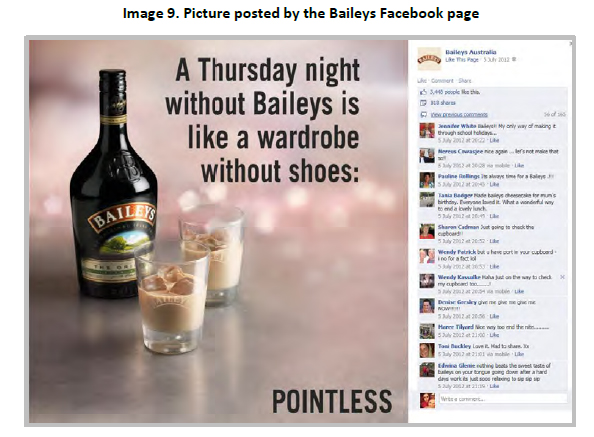 To answer these questions, four people coded 40 items of alcohol brand content posted to Facebook during 2012. The researchers selected and systematically adjudicated 40 items of content that popular Australian alcohol brands posted to Facebook in 2012 using the ABAC and Australian Association of National Advertisers (AANA) codes.
The picture to the right shows one of the examples presented in the report.
According to the report, "Breaching the code: Alcohol, Facebook and self-regulation" the Facebook pages of Australian alcohol brands included:
content which encouraged, normalised and even celebrated excessive alcohol consumption;
highly inappropriate, crude and offensive language;
derogatory and vilifying comments;
sexist and degrading sentiments, often with violent or menacing undertones;
content implying that alcohol consumption causes a significant change in mood or environment, and social or sexual prowess;
images of consumers who are clearly under the minimum age of 25 which is recommended by alcohol advertising codes in Australia.
The report also analyses all items of content posted by alcohol brands to their Facebook pages on a Friday, in order to highlight the increased likelihood that time and event specific posts would raise a regulatory issue. It was found that almost one in five Friday posts (17.8%) appeared to breach the ABAC and AANA codes. The vast majority of these breaches (83%) referred to excessive alcohol consumption.