Alcohol: No ordinary commodity
The summary of the book by Thomas Babor and a team of researchers, Alcohol: No ordinary Commodity; research and public policy is now available for free on the web site of the journal Addiction. Comments to the various chapters of the book can also be downloaded from the site.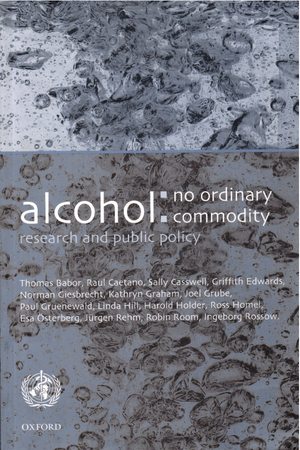 An international team of experts are behind the WHO sponsored book. It sums up the research and knowledge on alcohol problems and alcohol policy. Alcohol: No ordinary Commodity builds on the previous volume by Griffith Edwards et. al: Alcohol policy and the public good (1994). The text of the present volume evolved through the development of background papers, many stages of drafting, discussion at plenary meetings and the contributions of a small editorial group. This participatory exercise has resulted in a text that represents the consensus view of the 15 authors.
Thomas Babor et al: Alcohol: No Ordinary Commodity,
Oxford University Press in collaboration with The World Health Organization. 2003. ISBN 0-19-263261-2
You will also find the summary at the Blackwell Synergy Addiction site