National Conference in Thailand
Alcohol in the Globalized World
- Thailand will never give trade benefits higher priority than public health, declared Thai Prime Minister Abhisit at this year's National Alcohol Conference in Bangkok.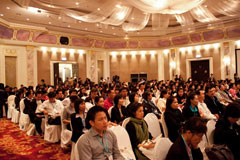 More than 800 national and international representatives from civil society, academics, health professionals, government representatives and many other groups, representing millions of people, is a strong force. But is it strong enough to keep alcohol out of the Free Trade Agreements negotiations and strengthen the protection of public health?
This was one of the issues raised during the 6th National Alcohol Conference, NAC, in Thailand, held the 22 – 23 November in Bangkok. This year's conference was jointly hosted by Center for Alcohol Studies, CAS and Integrated Management of Alcohol Intervention Program, IMAP and the theme for conference was "Alcohol in the Globalized World".
The number of participants in this year's NAC was the largest ever and gathered people from all walks of life, including some representing the alcohol industry. The presentations in the lobby of the conference hall and from the stage showed the width of knowledge and experience, from Community-level Alcohol Problems Solving Models to Alcohol pricing and taxation: challenges in the globalised world, that Thailand has built up through the support from Thai Health Promotion Foundation and the dedicated tax.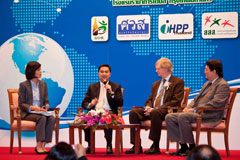 Among the international speakers complementing the wealth of national knowledge and experience was Prof. Tomas Babor from USA, Ms. Pia Mäkelä from Finland and Prof. Dr. Sungsoo Chun from Korea. Prof. Tomas Babor did also join as one of the panelist for the introduction of the Thai edition of "Alcohol – no ordinary commodity", translated by Dr Thaksaphon Thamarangsi and colleagues.
On its second day the Thai Prime Minister, Mr. Abhisit Vejjajiva, joined the conference for a panel discussion together with Prof. Dr. Udomsil Srisaengnam and Prof. Tomas Babor. The discussions span many issues, not the least the upcoming FTA negotiations between Thailand and EU. This resulted in a strong support from the participants when Prime Minister Abhisit declared that Thailand will never give trade benefits higher priority than public health.
(All photos: Internationella Institutet/Johan Bengtsson)
RELATED ARTICLES